Houseflies can be a major annoyance, buzzing around your house and landing on your food. Did you know they can also carry disease? Every time they land, they can transmit the pathogens that cause shigellosis, typhoid fever, E. coli, and cholera. Don't put up with houseflies, find a reliable fly control company instead.
Ford's Hometown Services (FHS), headquartered in Worcester, MA, is known for our prompt and professional fly control services. You might think just putting up a fly trap or spending your evenings swatting them can solve the issues, but in reality, even common houseflies can be very difficult to get rid of. Even when you think you've succeeded, their eggs might be lurking in your drains, waiting to surprise you with a new infestation just when you least expect it. Our team offers:
Expert knowledge: There are many breeds of flies and each different type can require a different method to be eliminated properly. Our fly control team will identify and eliminate adult flies and breeding areas to solve your housefly woes. Don't delay – the earlier you call us, the better!
Fast, friendly service: FHS is known for our top-notch service. From the moment you call to till our truck is leaving, we'll make you a priority. Since one female housefly can lay up to 600 eggs throughout her lifetime — which can hatch in a matter of days — we understand time is of the essence and will get your service call in fast.
Licensed technicians: FHS is known for our licensed Pest Control Technicians. In addition, our team has QualityPro certification. We literally set the standard of excellence in professional pest management through training and education – meaning we'll take care of your house fly problem with the best products available.
FHS offers fly control for both homes and businesses. We'll work with you to eliminate the current issue and provide tips for removing or cleaning up spots that could be unexpected food sources or where flies might want to lay eggs.
If you need fly control, call FHS, the most trusted fly exterminators in Central Massachusetts, at 800-649-9992 or request an online quote today!
The best service starts here.
We're the most trusted pest control and lawn care company in Central Massachusetts. But don't take our word for it. Read real reviews from happy customers. Then call us and join our growing list of residents, families, and businesses who depend on Ford's Hometown Services to protect what matters most.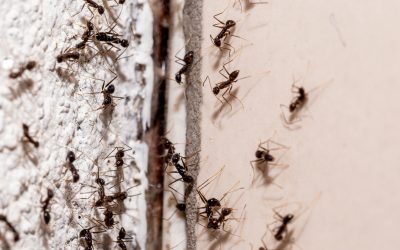 If you are excited about spring and anxious to leave behind the cold days of winter, you're not the only one! So are ants! Spring is the time of year ants re-emerge from winter dormancy to replenish their energy and mate. It's also the time of year you might first see...
read more