When the warm weather comes, many homeowners are thinking about lawn care and fertilizer. Heat can be hard on your lawn in central Massachusetts, so it's important to have the right lawn care and fertilizer to ensure that your grass stays healthy, green, and lush all season long.
Not sure what fertilizer to use? If you're unable or not sure how to provide your lawn with the proper and best possible lawn care you're not alone! Turn to the lawn care and fertilizer pros at Ford's Hometown Services for help!
Ford's premium turf management program is a sophisticated, custom-designed program that carefully matches the growing conditions and lawn environments found here in central Massachusetts and Worcester County. FHS is well known for combining lawn care and fertilizer in an integrated, comprehensive treatment program. The fertilizer used here at Fords hometown Services is not some standard commercial, run-of-the-mill fertilizer – it's a custom-blended product using the industry's top nutrients to provide your specific lawn found here in New England with exactly the right combinations of plant food to help it grow fast, strong, and long-lasting. For example, the soil content that is found here in N.E. is a totally different make-up than compared to the type found in California, so why would you use a universal type fertilizer blend. You should be using a costume designed fertilizer that is going to provide you with the best possible results and Fords Hometown Services has it.
It includes micronutrients to resolve any soil deficiencies and strengthen the plants health to the fullest. It is a superior product over most of the competition. You will notice less leaching, the potential for less burning, less volatilization, and comes with superb controlled release of nutrients for up to 12 weeks or more. It is by far the best and most effective program for lawn care and fertilizer.
Proper lawn care starts with Ford's. From promoting grass growth to eliminating weeds and lawn pests, Ford's provides everything you need to have the lawn of your dreams. In fact, Ford's technicians are all licensed pesticide applicators and trained to provide the most thorough pest control treatments available to make sure your beautiful lawn stays that way, free from damaging pests. To learn more about lawn care and fertilizer contact the lawn care and fertilizer experts at Ford's Hometown Services.
The best service starts here.
We're the most trusted pest control and lawn care company in Central Massachusetts. But don't take our word for it. Read real reviews from happy customers. Then call us and join our growing list of residents, families, and businesses who depend on Ford's Hometown Services to protect what matters most.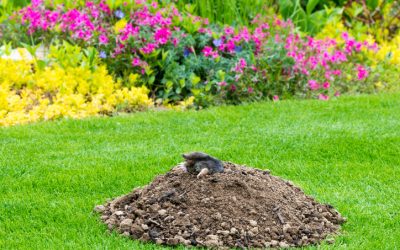 When you work hard on your lawn and flower beds, there's nothing more frustrating than seeing all of that effort destroyed by a mole. These small, burrowing insectivores can ruin a yard in a matter of days. In fact they can dig up to 18 feet per hour! Learn the...
read more