Lawn Fertilization Company
With summer's heat upon us, you may think the time for contacting a lawn fertilization company is long past. But even in the summer, your grass and its root system need nutrition to combat heat, pests, and other things that can sap your grass's strength and make it susceptible to disease.
A professional lawn fertilization company is a good partner in the care and feeding of your lawn. With New England weather extremes, your lawn can get quickly stressed and the right balance of nutrients and moisture go a long way in stabilizing and maintaining a healthy lawn. That's where a lawn fertilization company such as Ford's Hometown Services can help out.
Our premium grass management program is a sophisticated, science-based, custom-designed program that carefully matches the growing conditions and lawn environments in Worcester County and greater central New England, combining pro fertilizer blends in an integrated, scientifically-sound treatment program. Only a professional lawn fertilization company such as Ford's can provide a custom-blended commercial lawn care product using the industry's top nutrients to provide your unique lawn with exactly the right combination of nutrients to help your grass grow fast, lush, strong, and long-lasting.
Our proprietary lawn fertilization company program includes carefully-selected micronutrients to fight soil deficiencies and strengthen the plants, from root tip to grass blade top. Our lawn fertilization company products offer less leaching and burning while providing precisely-controlled nutrient release for up to three months or more. It is without a doubt the most effective lawn fertilization program.
The right choice for a lawn fertilization company is Ford's. Our lawn care technicians are licensed, trained and authorized to provide the most thorough lawn fertilization treatments commercially available. To learn more about our lawn fertilization programs contact our lawn fertilization experts at Ford's Hometown Services.
The best service starts here.
We're the most trusted pest control and lawn care company in Central Massachusetts. But don't take our word for it. Read real reviews from happy customers. Then call us and join our growing list of residents, families, and businesses who depend on Ford's Hometown Services to protect what matters most.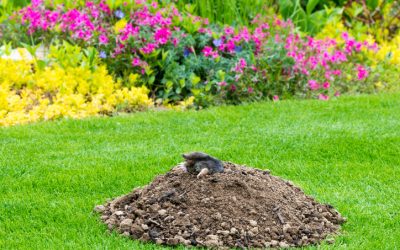 When you work hard on your lawn and flower beds, there's nothing more frustrating than seeing all of that effort destroyed by a mole. These small, burrowing insectivores can ruin a yard in a matter of days. In fact they can dig up to 18 feet per hour! Learn the...
read more