The common household mouse is one of the most troublesome pests. They are not only aggravating, but they are also dangerous — their gnawing can cause property damage and create fire risks in your home. Plus, their droppings can lead to illnesses such as salmonella and Hantavirus. That's why if residents of Worcester and the surrounding community suspect a mouse in the house, they call the mice extermination experts at Ford's Hometown Services as soon as possible.
Whether you actually see mice or just their tell-tale signs (gnawing on woodwork or droppings that look like dark grains of rice), it's time to call in the pros. Headquartered in Worcester, MA Ford's Hometown Services has eliminated unwanted pests like mice in the area for 80 years.
We're the go-to mice exterminators because of our:
Professional experts: With eight decades of experience, our licensed pest control technicians have seen it all. Their extermination experience translates into fast action and immediate results for you.
Latest techniques and products: Our team uses the latest methods of pest management to help families and businesses across Worcester. From non-poisonous traps to mouse bait, everything we do is administered by professional mouse exterminators.
Comprehensive solutions: Our team understands there are different levels of treating mice issues — from mice control to mice extermination. Along with treating your immediate problem, we can provide guidance to seal up any holes in your foundation or pipe openings and otherwise provide recommendations to mouse-proof your home and make it less of a target.
Residents who are looking for mice control or mice extermination depend on Ford's Hometown Services. Call us today at 800-649-9992 or fill out the form to get started today. Mice control and mice management are our specialties!
The best service starts here.
We're the most trusted pest control and lawn care company in Central Massachusetts. But don't take our word for it. Read real reviews from happy customers. Then call us and join our growing list of residents, families, and businesses who depend on Ford's Hometown Services to protect what matters most.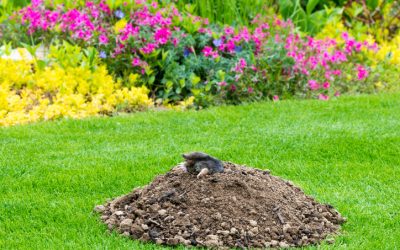 When you work hard on your lawn and flower beds, there's nothing more frustrating than seeing all of that effort destroyed by a mole. These small, burrowing insectivores can ruin a yard in a matter of days. In fact they can dig up to 18 feet per hour! Learn the...
read more