Tired of dealing with annoying mosquitoes? These flying fiends can be much more than simply annoying – they can pose a serious threat to your health, so remember to be careful when you spend time outdoors this summer. When a mosquito bites you, the best case scenario involves an itchy bug bite, but here in New England, mosquitoes can also be carriers of West Nile Virus or EEE (Eastern Equine Encephalitis). Take care to cover up whenever possible, and to use mosquito repellents properly. These viral infections can be extremely detrimental to your health and in some cases, death is a very real possibility.
Mosquitoes lay their eggs in still water, such as small stagnant ponds and swamps, as well as water that has collected in containers around your property, like buckets or tires. As summer arrives, mosquitoes begin to thrive and will remain active until the first frost in the fall. They are most active at dawn and dusk so if you don't have to be outside during these peak mosquito hours, then don't! If you like to open the windows of your home or workplace, be sure to install screens to keep pesky little bloodsucking mosquitoes out.
Ford's Hometown Services offers two types of mosquito programs to help kill and repel active mosquitoes. Our trained and licensed technicians focus on areas of harborage and breeding, such as trees, shrubs, ground cover, under decks, bedding plants, and if applicable, wetlands. In addition, our trained applicators will also inspect and make recommendations to the homeowner that may reduce mosquito breeding areas. Both traditional and organic mosquito control services are proven to kill and repel fleas, ants, spiders, ticks, and other biting insects.
The best service starts here.
We're the most trusted pest control and lawn care company in Central Massachusetts. But don't take our word for it. Read real reviews from happy customers. Then call us and join our growing list of residents, families, and businesses who depend on Ford's Hometown Services to protect what matters most.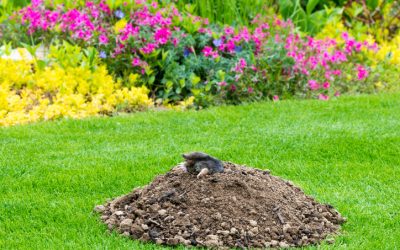 When you work hard on your lawn and flower beds, there's nothing more frustrating than seeing all of that effort destroyed by a mole. These small, burrowing insectivores can ruin a yard in a matter of days. In fact they can dig up to 18 feet per hour! Learn the...
read more