Moth removal can be a nuisance for homeowners because they can destroy clothing and other cloth products and ruin grain-based food products. We're talking about the clothes moth and the Indian meal moth – two of the most common indoor moths in the region. In order to undertake effective moth elimination, it's important to know what to look for.
Clothes moths actually come in two basic types: the webbing clothes moth and the casemaking moth. The webbing clothes moth adults are approximately 7–8mm in length with wings folded back over the body. The wings are a golden buff color with a fringe of long hairs on the edges. The head has a tuft of reddish hair and the body is white or cream-colored with a brown head capsule. It is common to find the larvae feeding under cuffs, collars, and other hidden parts of clothing. Experienced moth exterminators for Worcester, Massachusetts such as the moth elimination experts at Ford's Hometown Service know where to look and what to look for when it comes to moth elimination and moth extermination.
For locations, moth treatment starts with proper diagnosis of the pest — the first step in gaining control and planning proper moths treatments. Woolens damaged by the clothes moth exhibit furrows in the surface, which is caused by the larvae's habit of "grazing." Occasionally, and during heavy infestations, the woolens will have holes. The webbing clothes moth will feed on hair, wool, fur, feathers, and similar animal products. Synthetics, cottons, and other plant materials are not attacked by the webbing clothes moth larvae unless these items are stained with food or body oils.
The Indian meal moth is one of the more common moths infesting stored grains and grain products. The larval stage causes the damage and contaminates our food. Larvae feed on flour and meal products, dried fruits, cereals, nuts, bird food, and dried pet foods. As the larva feeds it spins a web, leaving behind a silken thread wherever it crawls, which can help identify it for moths treatments including moth spraying. The larvae can chew through the plastic packaging you would find cereal and other products in so it is important to check new products when an infestation is discovered.
Contact Ford's Hometown Services today for all your moth elimination needs.
The best service starts here.
We're the most trusted pest control and lawn care company in Central Massachusetts. But don't take our word for it. Read real reviews from happy customers. Then call us and join our growing list of residents, families, and businesses who depend on Ford's Hometown Services to protect what matters most.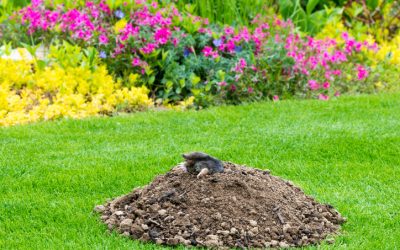 When you work hard on your lawn and flower beds, there's nothing more frustrating than seeing all of that effort destroyed by a mole. These small, burrowing insectivores can ruin a yard in a matter of days. In fact they can dig up to 18 feet per hour! Learn the...
read more