Wasps are no laughing matter, especially for anyone allergic to their venom. Here in Central Massachusetts, wasps are a common household pest, but that doesn't mean they should be taken lightly. Often professional wasp extermination is required to effectively eliminate wasps that can threaten you, your family, and your pets.
Wasp elimination by professional pest control technicians such as the wasp exterminators here at Ford's Hometown Services can be especially important if there large numbers of wasps present on your property. A swarm of them can be a serious problem – even deadly — overwhelming the body's natural defenses with the cumulative effect of venom from multiple stings. That's why it's so important to have the nests of ground wasps found and eliminated quickly, especially because ground wasp nests can be so difficult to find.
The wasp spraying and treatments used by Ford's trained wasp exterminators is highly effective and safe when used properly to protect your family, neighbors and friends – anyone on your property who might be exposed to painful wasp stings. Wasp treatments are often the only way to get rid of these nasty pests efficiently and effectively. Because they can be so dangerous, t it's best to leave wasp spraying and wasp extermination to professionals like the experts at Ford's Hometown Services.
Unfortunately, wasps have been known to rebuild their nests in the same places, even after they've been completely destroyed. If that's the case on your property, the wasp exterminators at Ford's Hometown Services can advise you on ways to make your property less attractive and discourage wasps from returning to your yard or home. This might include trimming plants and closing up gaps or holes in buildings that provide attractive openings for wasps to build nests in.
If you've got a problem with wasps on your property, now's the time to have the wasp exterminators from Ford's determine the best wasp treatments to take care of the problem, once and for all.
The best service starts here.
We're the most trusted pest control and lawn care company in Central Massachusetts. But don't take our word for it. Read real reviews from happy customers. Then call us and join our growing list of residents, families, and businesses who depend on Ford's Hometown Services to protect what matters most.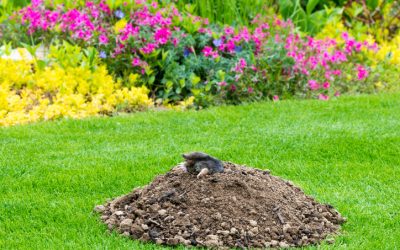 When you work hard on your lawn and flower beds, there's nothing more frustrating than seeing all of that effort destroyed by a mole. These small, burrowing insectivores can ruin a yard in a matter of days. In fact they can dig up to 18 feet per hour! Learn the...
read more