Yellow Jacket Extermination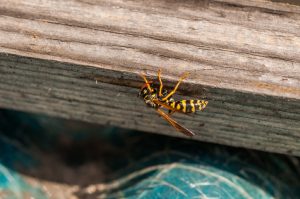 Nothing can ruin a day outside quite like yellow jackets for homeowners. These pests are not only a nuisance, they are also dangerous, especially for anyone allergic to the venom in their stings. And if you uncover a swarm, they can be deadly. Since yellow jackets can be dangerous, it's best to leave their eradication to professionals like the experts at Ford's Hometown Services (FHS), headquartered in Worcester.
Yellow jacket extermination is a specialty of FHS. We offer:
Experienced technicians: Our pest management professionals are experts at the elimination of Worcester, MA hornets, wasps, bees, carpenter bees, and yellow jackets and the surrounding region. We use the latest pest control science combined with years of experience.
Proven service: Check out hundreds of Google reviews, and you'll see that we treat our customers with respect and take care of tough pest problems, like yellow jacket extermination.
Expert advice: Hornets, wasps, bees, carpenter bees, carpenter bees, and yellow jackets have been known to rebuild their nests in the very same places, even after they've been completely destroyed.
It's critical to have the nests of hornets, ground wasps, bees, carpenter bees, and yellow jackets found and eliminated as soon as possible, especially because ground wasp nests can be difficult to eradicate. Working with yellow jacket extermination experts like those at FHS will ensure the safety of you, your family, your neighbors, and anyone visiting your property.
If you need yellow jacket extermination, or the surrounding area removed from your property, including ground wasp nests, contact the pest control specialists at FHS for prompt, professional, and effective solutions.
The best service starts here.
We're the most trusted pest control and lawn care company in Central Massachusetts. But don't take our word for it. Read real reviews from happy customers. Then call us and join our growing list of residents, families, and businesses who depend on Ford's Hometown Services to protect what matters most.
Everyone knows prevention is the best medicine. But did you know that saying applies to pest protection, as well? While you might not think to call an exterminator until you have a real problem on your hands, the most effective way to protect your home from the...
read more