Mosquito control is on the top of everyone's mind these days as the news is full of stories about mosquito treatments due to the spread of infectious diseases such as Zika. While Zika is not a concern at this time here in New England, mosquitos are responsible for spreading other serious illnesses in the Northeast such as West Nile Virus, Yellow Fever, and EEE ("triple-E").
If you have a problem with mosquitos in your yard, call the mosquito exterminators at Ford's Hometown Services. Our expertise and years of experience with mosquito spraying and other means of mosquito elimination make us the go-to mosquito exterminators.
The mosquito extermination professionals at Ford's understand that reducing mosquito populations requires a multi-faceted approach that includes season-long traditional or organic applications, specifically targeting mosquitoes and mosquito larvae.
But even before the Ford's mosquito control team goes into action, there are a number of preventative steps you can take on your own. Start by identifying mosquito breeding areas on your property, such as pools or puddles of standing water – mosquitoes only need about a half inch of standing water to breed. That means draining and eliminating sources of standing water, such as old tires, planters, flower pots, bird baths, gutters, and low spots in your lawn. Any areas of standing water that cannot be eliminated can be treated with traditional or organic applications to kill mosquito larvae before they can become adults.
Ford's mosquito spraying program also helps kill and repel already-active mosquitos for effective mosquito extermination and mosquito control. Ford's trained and licensed mosquito elimination specialists know the right areas to focus on with mosquito treatments, such as heavy vegetation, under decks, and other protected areas that can harbor mosquitos. Once your mosquito problem has been effectively eliminated, Ford's mosquito exterminators can provide you with helpful advice for preventing their return.
The best service starts here.
We're the most trusted pest control and lawn care company in Central Massachusetts. But don't take our word for it. Read real reviews from happy customers. Then call us and join our growing list of residents, families, and businesses who depend on Ford's Hometown Services to protect what matters most.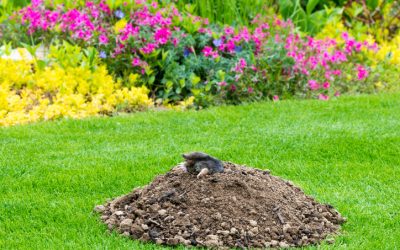 When you work hard on your lawn and flower beds, there's nothing more frustrating than seeing all of that effort destroyed by a mole. These small, burrowing insectivores can ruin a yard in a matter of days. In fact they can dig up to 18 feet per hour! Learn the...
read more