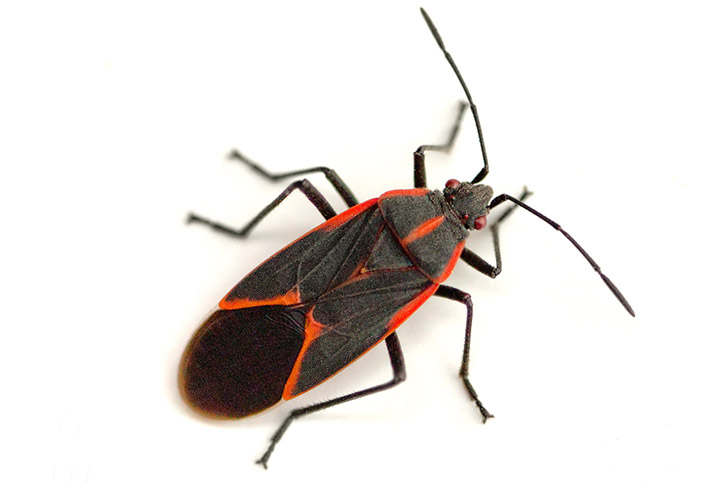 Fall is a beautiful time in New England. The last few warm days of late summer. The cooler evenings. The leaves are starting to change. But there is one downside to fall in New England — all those fall bugs! Almost overnight, Boxelder Bugs, Cluster Flies, Lady Bugs, Western Conifer Seed Bugs, and Brown Stink Bugs emerge in packs, making it hard to enjoy those last fleeting days of summer and cool Autumn evenings. Learn more about these fall pests that are looking for refuge inside your home and how to get rid of them. Common Fall Pests There are quite a few pests that emerge toward the end of summer and early fall, looking to find a safe place to overwinter. Many of them group together and can be found on the sunny side of your house on warm days — and they work diligently to find their way into your home on cold nights. Once inside they can get into wall voids, light fixtures, and other hard-to-reach area.
Some of the most common in the New England area include:
Boxelder Bugs: Easy to identify due to their black and red markings, boxelder bugs are a nuisance pest. They don't bite or cause structural damage, but they congregate in large numbers, especially in areas with boxelder and maple trees.
Cluster Flies: An adult cluster fly is slightly larger than a housefly. They get their name from their tendency to be found in groups, or clusters. They are black and gray and have golden hairs on their bodies.
Lady Beetles: Lady Beetles, also known as ladybugs, tend to swarm in large packs in the early fall. Asian Lady Beetles, which have been around since the 1960s, are a particular pain in the fall as they can congregate in the hundreds. Lady beetles can secrete a smelly yellowish fluid, which makes them even more of a nuisance pest.
Brown Marmorated Stink Bugs: Known for their stench, stink bugs live in pine trees and are persistent at finding their way indoors. If they do, they'll be bugging you all winter long as indoor temperatures are warm enough to prevent the stink bug from hibernating, so they remain active. Their defense mechanism is a smelly liquid they spray into the air to ward off would-be predators, and that liquid can be painful if it gets into your eyes. These pests are also known to damage crops and plants.
Western Conifer Seed Bugs: These are plant-feeding insects that do not feed when inside a structure. They are sometimes misidentified as stink bugs, especially as they can have a bitter smell used to deter predators. They are not known to bite or cause substantial harm, but can be quite a nuisance if they move inside for the winter.
What to Do to Protect Your Home
Pest control for most invading fall pests starts with prevention. Here are some helpful tips to get started:
Seal up cracks with caulking or sealant on your windows, especially on basement windows

Fix broken down door sweeps

Repair damaged screens

Cut back shrubs that touch your home

Remove leaf litter from around your home

Secure gaps in soffit

Monitor openings in your home such as dryer vents and install screens if needed
Most fall pests can get into your home through openings as thin as a credit card, so dealing with them can be difficult. That's where following up with an exterior treatment from a licensed pest exterminator like Ford's Hometown Services comes into play. Our team can apply a custom designed proprietary spray application around cracks, windows and eaves to lessen the number of insects entering your home to overwinter.
Call in the Pest Control Professionals!
With fall in full force, these pests are on the move and looking for a spot to overwinter. Keep your home off-limits with help from Ford's Hometown Services. Contact us to learn more about our Fall Invaders Program.