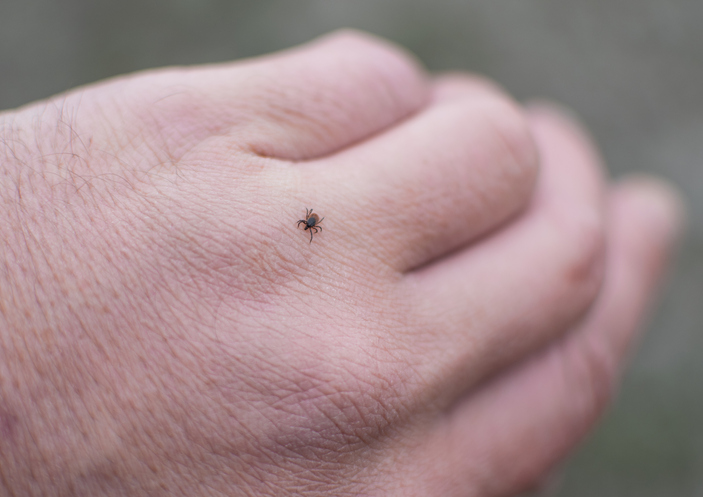 A tick population explosion could happen thanks to two conditions this year: a lack of acorns and a mild winter. Learn more about why this year could have more ticks sooner — and what you can do to protect your family.
Acorns and Mild Weather
What do acorns have to do with ticks you may ask? Well, in years past oak trees produced an overabundance of acorns, which led to more white-footed mice. As a result, the black-legged (deer) tick population also increased thanks to all those mice to feed on. But this spring mice will be in short supply and ticks will be looking for other options for their meals! Combine that with the warmer fall and milder winter conditions, and ticks may emerge earlier than normal.
Tips to Protect Your Family from Ticks
Stay away from tall grass: If you are hiking, be sure to walk in the center of trails and not wander into the tall grass to explore. Ticks are more prevalent in the tall grass and wooded areas where large animals live — particularly deer.
Wear long sleeves and pants: Covering exposed skin is always a good idea when in the woods. Dress in long sleeves, pants, and you may even consider tucking your pant legs into your socks if you'll be in an area likely to have ticks. It's not the best fashion choice – but safety first!
Use tick repellant that contains DEET and buy camping gear that contains permethrin: There are two substances—DEET and permethrin—that can go a long way toward keeping you protected. Deet repels ticks, and permethrin can immobilize them on contact. Remember to follow the instructions, the Environmental Protection Agency says that when used as directed, both are safe.
Always do a thorough tick check: Once you get back home from being outdoors near where ticks may be present, do a head-to-toe tick check. Be sure to check your hair and other places they like to hide.
Put your clothes in the dryer on high heat: Throw any potential tick-bearing clothes in your dryer and run it on high heat for 10 minutes. Since ticks require moisture to survive, the dry heat will kill them.
Turn to the Tick Control Pros
If you really want to get in front of the 'Year of the Tick,' your best offensive is a good defense. Contact Ford's Hometown Services and ask about our tick control programs. Our multiple-visit protection programs are delivered by licensed and trained applicators and will keep your home and yard a tick-free zone, so you don't have to worry about your family or pets this year, or any year.